Sourced from nature & proven by science, Hark & Zander harness the goodness of organically grown NZ hemp & other NZ botanicals to create luxury skincare that is natural, NZ made, sustainable & unbelievably effective.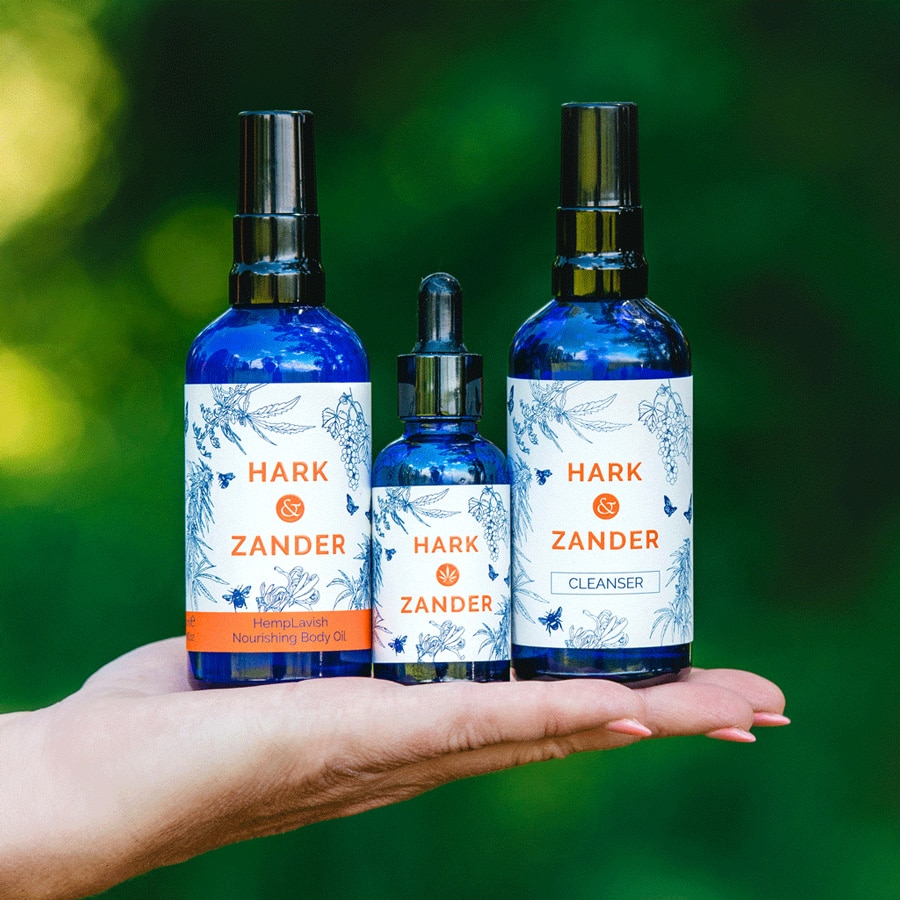 It was from the humble beginnings of a home-based kitchen that Hark & Zander formulations were created with the flare of an ancient apothecary. Founder, Kirsty Harkness, a registered nurse, was mixing various concoctions together in order to solve her skin allergies.
"I was searching for a hemp seed oil-based remedy for my own skin but I couldn't get the blend right." Reaching out to others with more experience, she worked together with a skincare specialist to create their amazing flagship product HempTonic Face Oil.
Products were sampled and generously shared around friends and family. "It was all new ground and we tried everything to get our formulation just right. We worked on a further range of Hempseed-based formulations to soothe, protect, cleanse and moisturise the skin," recalls Kirsty. "It was exciting times, we knew we were on to something great with hempseed as the star."
"Once we had the blend for HempTonic just right, I understood that there was a huge demand for skincare that, well… cared!" she recalls.
What needs or challenges did you face that led you to look to Shieling for a solution?
I knew that if we were going to have true success, we needed to do things properly. This meant moving from our home-based kitchen tinkering zone, onto full-scale production in one of NZ's leading laboratories.
Can you describe your selection process, and what was important to you when choosing a partner for contract manufacturing?
We reached out to Shieling who was recommended to us, and found the team so informative and great to work with and knew that with their help, we could expand our range to create more exciting things!
Together with Shieling, who we now think of as part of our extended team, we drilled into the science: we researched ingredients independently and how they mixed with other ingredients. We found natural ways to replace synthetic ingredients while still delivering products that would rival the best. We ensured nature would deliver the results we needed and sourced local suppliers to keep as much as we could in New Zealand. "We are truly harnessing nature's best, with even more exciting things to come," says Kirsty.
We worked on ingredients lists and samples backward and forwards with Shieling's lab formulators. We trialed lots of "no's" and some very excited "yeses"!
Hot on the heels of HempTonic was our divine HempLavish Nourishing body oil, HempPurify Emulsifying Oil Cleanser, HempBright Face the day Creme, and HempRestore Good Night Creme – all of which have received rave reviews and 3 awards to date!
How were the process and the result?
Partnering with Shieling enables huge batch number production under the strictest quality control and ISO standards. This has enabled us to trademark around the world and set our sights high!
For our next magic, Kirsty has our game-changing toner in the incubator at Shieling currently and is working with our amazing team on a serum and eye creme to rival the world's best.
"It is certainly a steep learning curve," says Kirsty of the whole journey. "But we have an incredible product, a dedicated and passionate team, and a world of people searching for products that are natural, luxurious, effective and kind to us and the planet. We are excited for the future, join us on our journey and watch what amazing things we can achieve from little ole New Zealand!"
---
Ready to take the next step for your skincare or cosmetic brand? Get in touch, and let's chat about how we can bring your dreams to life.